Catering
Thank you for selecting Martinis as a possible caterer for your upcoming celebration. To help us better understand what you are looking for, please answer the following questions and we will contact you with options we feel will best serve your needs.
The best catering comes from the best restaurants, and in Valparaiso, most people agree that Martinis stands alone at the top for its scratch kitchen freshness, diverse food offerings, and remarkable service. But at Martinis, the same passion that made it a great restaurant also makes it equally impressive for its catering. 

On this page, you'll discover what makes Martinis uniquely qualified to help you make your next catering special. You'll also discover how quick and easy it is to customize our restaurant catering to your vision. From giant catering events to boxed lunches, if you dream it, Martinis can help you make it happen.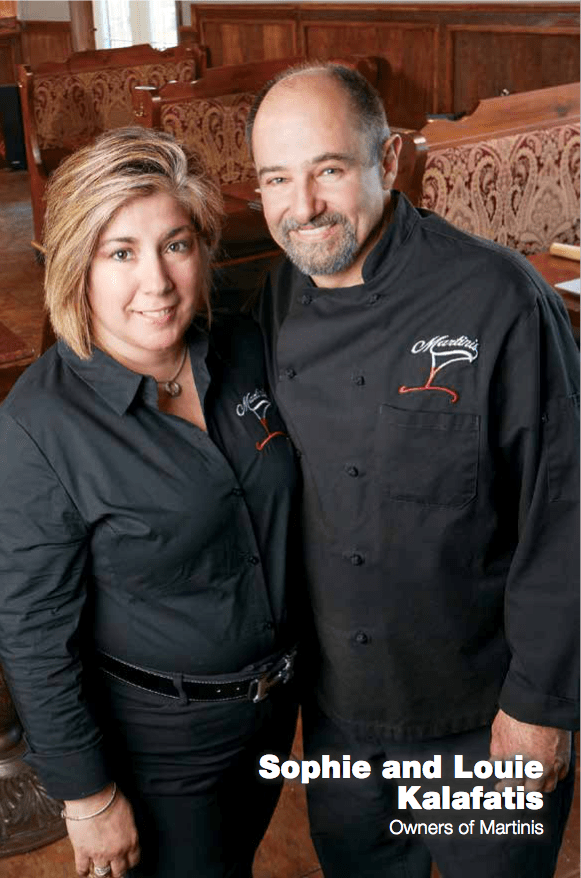 Wedding Catering
The secret to Martinis' success is passion. While Chef Louie's passion for cooking scratch kitchen recipes is legendary in Valparaiso, his better half has a passion for helping couples create the perfect wedding catering. Just ask anyone that chose Martinis to cater their wedding, this dynamic duo is a match made in heaven.
Sophie's passion for helping couples turn their dreams into memorable events comes with Valparaiso's most complete and diverse catering menu. While many catering companies limit your choices, Louie has the most complete catering menu you'll ever see. When it comes to your big day, compromise shouldn't be an option.
Even the wedding tastings are memorable. You and yours will love sampling the appetizers and entrees. Martinis also offers dessert catering, bringing every detail under one roof. You'll love the confidence that comes with Valparaiso's favorite restaurant, while your guests will be talking about your wedding food for years to come. For a sneak preview, check out the Martini's Martinis menu link.
Corporate Catering
Who doesn't love meeting co-workers at Martinis on a Friday night? It's legendary in Valpo! Now imagine the enthusiasm when your team gets the memo… Martinis is catering the corporate event!
Of course, planning your corporate party should be fast and easy. Martinis' no-nonsense approach will instill confidence without adding to your workload. Martinis Corporate Catering comes with experience, proven reliability, and time-saving execution.
Businesses in Valparaiso have learned that you can count on Martinis' catering to exceed expectations while serving fan favorites that include party platters, and sandwich platters. Martinis cuisine offerings include Italian, Greek, seafood, steak, pizza, burgers, and more.
Restaurant Catering for Every Occasion
When it comes to restaurant catering, you'll find Martinis is uniquely qualified to help you create a wonderful experience for every occasion. From helping you find the best options within your budget to delivering piping hot cuisine, Martinis will take care of your graduation parties, bridal showers, and even holiday traditions, such as Thanksgiving and Christmas Dinners. But the star attraction of Martinis' restaurant catering is the diverse food offerings from Martinis' Scratch Kitchen Menu. With such diversity, you will find something for every occasion! Here is a link to the menu page.
Special Occasion Catering
Martinis loves catering for virtually every occasion. As a family restaurant, nothing makes Sophie and Louie happier than the sight of a family dining at their restaurant. Maybe that's why so many families are turning to Martinis for special occasion catering.
Whether it's Thanksgiving family dinner or a giant catering for an open house, Martinis can help you make it special. Here are a few types of catering to choose from. If your event isn't listed, please fill out the catering form for customized information that suits your event and venue best. We love creative catering!
Party Platters
Any party is better when it comes to Martinis Party Platters.
Sandwich Platters
Valpo's best sandwiches on a platter- Delivered or Picked Up. We make it delicious and fun!
Lunch Catering
Martinis' lunch catering puts Valpo's best lunch menu right where you want to be. Here is a link to our digital lunch menu. Warning: The food images are hard to resist!
Liquor Permit Catering
When it comes to Liquor Permit Catering, Martinis is without equal. Just look at the digital bar menu and you'll discover Porter County's largest cocktail, wine, and beer offering. Martinis' team of mixologists will bring an exciting twist to your event.
Boxed Lunches
While most people love the Martinis catering presentation, some occasions call for boxed lunches. Martinis can help you find the right solution and also help you think outside the box!
Thanksgiving Catering
More and more people in Porter County are finding the best solution for a memorable Thanksgiving is to relax, spend time with the family, and let Martinis handle preparing Thanksgiving Dinner...and turkey comes cooked to perfection.
Graduation Parties
Your graduation party or open houses will be well attended when the word gets out that your event is Catered catered by Valpo's favorite restaurant.
Catering at Downtown Central Park or Expo
Planning an event at Central Park? We can help make it special. For large events, ask about multi-restaurant catering with other restaurants in the Valpo Restaurant Group.
Tell Us Your Catering Needs